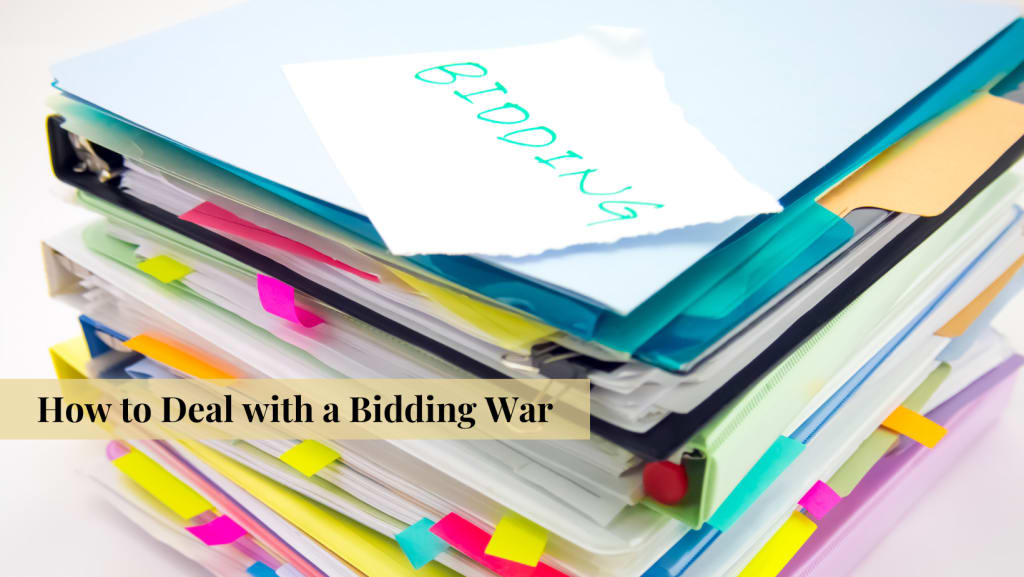 Bidding wars have become more common in recent years as a response to real estate market conditions. To put it simply, a bidding war happens when two or more potential homebuyers are interested in purchasing the same property, and one or both buyers attempt to offer more money to the seller to secure the sale of the home.
How do you win a bidding war before it starts?
There's no guarantee that if you get involved with a bidding war, you'll win. However, there are a few things you can do to give yourself a competitive edge over your competition :
Get pre-approved for a mortgage
Try to find out what the seller wants

The seller may want to close quickly, or even occupy the home for longer than usual

Offer a large earnest money deposit

This shows the seller that you have more confidence in your offer

Offer concessions to the seller

This can be offering to buy the home 'as-is', offering to pay for the seller's closing costs, or even allowing the seller to stay in the home for a set period rent-free

Offer an appraisal gap guarantee

If the negotiated price exceeds the home's appraised value, you'll need to make up the difference

Write a nice letter to the seller

Let them know why you want the home. Will you be buying this home to raise a family? Take care of elderly family members? Just finally have a place to call your very own? Tell them!

Offer cash if you can
Read more about winning a bidding war with
this article
from Business Insider
Mistakes to avoid
Bidding every cent you have

You may need to cover a huge repair or encounter some unforeseen circumstances

Bidding with too many contingencies, or none at all

Assuming you'll get another chance to bid

Write your offer as if it's the last one

Saying your bid is your last and final offer

The listing broker will not likely take you seriously if you submit a counteroffer again

Using an escalation clause

Escalation clauses will automatically increase your purchase offer to a certain amount above a competitor's. This takes away your control and causes you to bid far higher than you can afford in some cases.

Not knowing a home's value

Sellers often will intentionally price their homes lower than the perceived value to encourage bidding wars
When should you walk away from a bidding war?
When should you let go of a bidding war and move on?
When the home was overpriced, to begin with

It won't be worth it to outbid a contender if the house is way over your budget or the home's value, especially if you end up selling the home later down the line. Additionally, the property may not even appraise for the price you'll be paying, and you won't be able to get a mortgage for the high amount on price tag.

If there is more than one buyer competing against you

A bidding war is hard enough when you're competing against ONE other buyer, let alone several. There is also a higher chance that the sale price will go above your comfort level.

The home isn't truly the one you want

It's hard not to give in to market pressures. Maybe there's a lack of inventory on the market, interest rates are low, etc. But just because a home ticks a few of the boxes on your wish list doesn't mean it's the full package. If a home is not everything you ever wanted, don't succumb to the pressure and buy it because it's 'good enough.
Bidding wars are much more common during seller's market, for more information about buyer's markets vs seller's markets, read
this post.