No more walking in the rain! The new LYNX Blue Line Extension is finally opening to the public.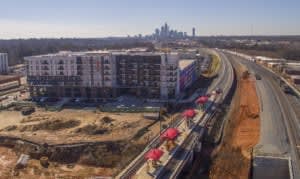 The Charlotte Area Transit System took its first official 'revenue service' trip on March 16th.


The finished Blue Line now spans the entire diameter of Charlotte. There are 19 total miles from South Blvd. and 485 in the South West to UNC-Charlotte in the North East.


There will be a total of 11 stations and 4 large park-and-ride structures. It's expected to carry an average of 25,000 riders per day.