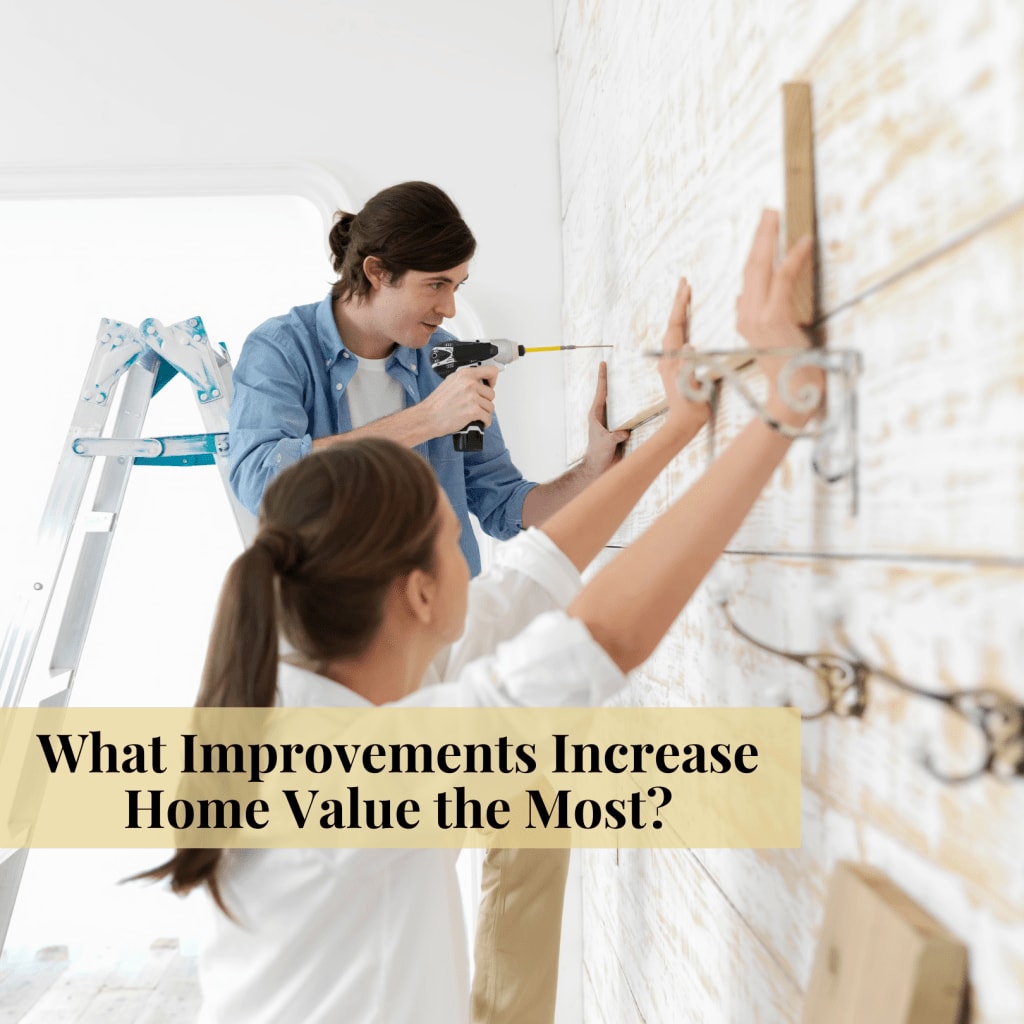 If you've decided to make some improvements to your home, you may be interested to know which improvements will increase home value the most. It is advisable to start with those that increase value the most, whether it's because you're thinking of selling your home, or even just trying to
increase your home's equity
, here's our handy guide for which improvements will get you more bang for your buck!
What are the cheapest ways to increase home value?
You don't need to do a total home remodel to increase the value of your home! Here's a list of some small things you can do with little time and money to give your home a facelift.
Paint the walls/ceilings

It's time to take down that outdated wallpaper that was all the rage in the early 2000s and swap out some older trendy paint colors for some new ones. This is especially important if you're improving your home in the hopes of selling it. Paint the walls in colors that will attract buyers. Neutral tones like beige, gray, or white are most likely to please potential buyers.

Pay attention to details

These can be super small, but powerful features of your home. Replace doorknobs, and cabinet knobs/handles. Fix leaky faucets or loose wiring. Deep clean your home. If necessary, replace your flooring- we love shag carpeting in our memories but let's be honest, it's a huge turnoff for your guests or potential buyers.

Update your home's lighting

A new light fixture here and it is surprisingly inexpensive. Installing new or brighter outdoor lighting is a huge plus for potential buyers as it increases your home's safety. Consider adding a chandelier to your entryway or primary bedroom.

Improve your curb appeal

This is a huge part of your home's value to buyers. Read more about improving your curb appeal

here

.

Renovate your bathroom/kitchen/bedroom on a budget

Most folks believe that kitchen and bathroom renovations are costly, but there are some small, inexpensive upgrades you can make that will take your space from drab to fab. Replace cabinet and drawer handles, paint your cabinetry, replace your faucets, update your decor, and do a deep clean. Read this to get more budget kitchen and bathroom renovation tips!

Install crown molding

This tip will add some height to your space, as well as give it a more polished and distinguished look.
Which renovations add the most value?
These projects may not be the most thrifty, but if you're looking to multiply your home's value, this is the list you need.
Create an addition to your home

More square footage=value.

Remodel your kitchen

Buyers and appraisers alike agree that the kitchen is likely the most valuable area of your home. New appliances and fixtures are going to be your most costly, but value-increasing features. Even switching your stove and oven to gas power can increase value drastically. Trending kitchen features like hidden outlets, wine/beverage fridges, and modern microwaves and dishwashers will impress your buyers and appraisers. New backsplashes and countertops will blow them away!

Renovate your bathrooms

Just like your home's kitchen, we spend a lot of our time in the bathroom. This is a huge selling point- and modern, updated bathrooms can increase your home's value significantly. Tear out that old bathtub/shower combo and transform it into a gorgeous tiled walk-in shower. Put in a beautiful soaking tub, and turn that single vanity into a double. If possible, turn your half bath into a full bath.

Update your HVAC

Not only is this likely to increase your home's efficiency, but it adds some peace of mind to potential buyers that they will not have to worry about repairing or updating the HVAC.

Improve your outdoor living space

Consider building or replacing your deck, use high-quality, long-lasting materials. Landscape your yard beautifully, and consider installing in-ground irrigation. If you're really up for a challenge and have the space to do so, install an in-ground pool. Take it up a notch and put it in an outdoor kitchen. Or even start small by putting in an in-ground gas firepit.
How to increase home value by $50,000
Combining any number of the above tips can increase your home's value by $50,000, but for our more planning-oriented readers here's an example guide of how to increase your home's value by $50,000
Complete kitchen remodels: most homeowners can expect between 60-80% return on investment for their kitchen remodel. Spend $20,000 on a kitchen remodel? You can expect to add about $12,000 to your home's value.
Bathroom remodels: the average ROI for a bathroom renovation is around 70%. Spending $15,000 on a bathroom remodel will get you $10,500 in increased value
Replacing your HVAC: this can get you between 20-30% ROI, so a $10,000 HVAC can add about $3,000 to your home's value.
New flooring: this one project can give you an impressive ROI of up to 342%, depending on the size of your home, adding new hardwood flooring can cost between $6,000 and $20,000, thereby increasing your home's value by $18,000-$60,000!
Of course, all of these calculations are purely estimates, rates for contractors, designers, and materials vary by location and quality, but there's no denying that a little smart investment can increase your home's value drastically!