What Regrets are Pandemic Buyers Having?
With the almost frenzied real estate market cooling off after the scorching hot market of 2021 & 2022, many new homeowners taking advantage of the low mortgage interest rates are beginning to think again about their hasty pandemic home purchases. With bidding wars and an endless amount of counteroffers to secure the purchase of a home, too many buyers waived inspections and appraisals. However, these purchasers are now regretting the extremes they went to in order to secure a home. Over 75% of these pandemic purchasers reported being unhappy about their new homes. The following graph taken from The National Association of Realtors breaks down responses from 722 pandemic buyers on why they regret buying their home: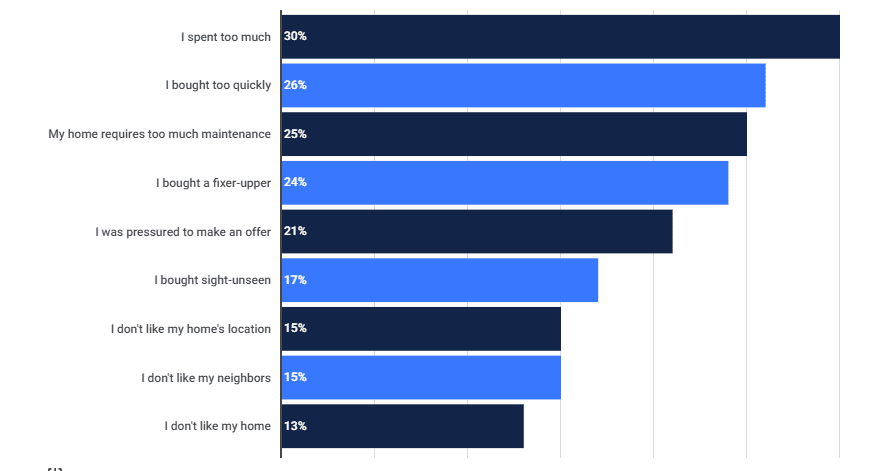 Was Buying a House in 2022 a Mistake?
This completely depends on your situation. If you purchased a home to take advantage of low-interest rates while also being financially unprepared, and are now finding yourself in a home that had more issues than you expected, or your payment is too high, or you just flat out don't like your home, there may have been a misstep. However, there are a few things to keep in mind about home ownership.
High prices also mean high equity. There's a good chance your home has significantly more equity than if you had bought it at a later time.
Your housing costs are now fixed. Despite home prices coming down a notch in 2023, rents continue to rise, an effect that you are shielded from as a homeowner.
What To Do if You Regret the House you Bought
Remind yourself that it isn't uncommon to experience buyer's remorse. Many home buyers, particularly pandemic buyers, find that dreaming about home ownership is often more exciting than the reality. Tensions during the pandemic housing market were high, and as the adrenaline fades, reality sets in, but be kind to yourself and your new home, and keep a few points in mind:
Stop shopping for other homes. It can be tempting to start a new home search online and explore all new listings on the market. But given all you've invested, you're probably not in a position to consider buying now, even if mortgage rates have gone down.
Break the cycle of nitpicking the house to pieces. There may be some issues with the home, but picking apart every single issue won't change anything. Redirect your thinking toward the positive and start noticing all of the wonderful features of your new home.
Listen to other people's opinions. There are a lot of reasonable voices out there giving you positive feedback about your decision. Embrace those opinions.
Revisit your goals by focusing on your wants and needs. When you're engaged in forward-thinking, it keeps things in perspective.
What to do if your pandemic home-buyer remorse concerns are valid
If real issues persist, contact your real estate agent. A real estate professional is rich with resources and can help advise you about potential repairs, connect you with qualified professionals, and even give you access to financial resources and professionals. Additionally, consider investing in a homeowner's insurance policy that can help cover some of the unexpected woes of homeownership. Our team is happy to help! If you're experiencing Pandemic Buyer's Remorse, or even just looking for advice on how to home buyer's remorse, give us a call! (704) 439-5300